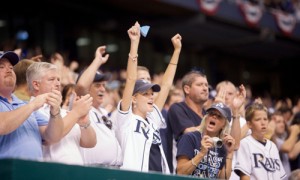 ESPN: the Magazine released their annual "Ultimate Standings" in which they rank every team in the four major sports leagues (NFL, MLB, NBA, NHL) on what they give back to their fans. The Green Bay Packers came out on top, with Los Angeles Angels the best in baseball (#4  overall).
In the Tampa Bay area, the Lightning were the top team in the NHL, and number two overall. The Bucs are 11th in the NFL and number 59 out of the 122 teams.
As for the Rays, they were seventh in baseball and 25th overall. Their ranking was boosted by the overall cost of attending a Rays game. They are at the top of the list of baseball in "Bang for the Buck" and second in affordability.
Here is where each of the area's teams ranked in the different categories…
The Rays rank low in fan relations (interesting considering the number of promotions the Rays provide including the postgame concerts), ownership (strange considering how loved Stuart Sternberg is in baseball), stadium experience (ranked ahead of only Marlins and A's, and the Marlins will be in a new park next season), players (young players means not a lot of star power outside of Evan Longoria), and title track (getting better).
And if you are curious, the Red Sox rank 24th in baseball (79th overall) and the Yankees are not much better at 22nd in baseball (75th overall).
Likes

(

0

)
Dislikes

(

0

)