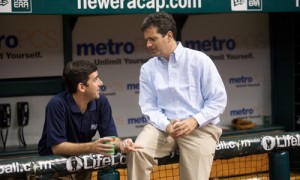 That is the questioned posed by Noah Pransky…
All we know so far is that the team HAS been sustainable in Tampa Bay – even profitable. So what evidence do we have that the team won't be in the future? Are revenues expected to drop? It's not like the team has major debt problems like a handful of others in the league…So, while fans are expected to believe the current situation is not sustainable; while local municipalities are expected to help subsidize a new stadium; and while St. Pete Mayor Bill Foster is expected to give the team permission to break it's use agreement; the Rays should provide actual evidence of their needs, not their "wants"…Stu Sternberg owes it to the region to open up his books.
Pransky is absolutely right. And yet, we would still argue that the Rays need a stadium just as much as they want the added revenues.
Are the Rays making money under the current situation? Yes. Are they making a lot of money? Probably not. But you can argue that "maximizing revenue" would be a "want" more than a "need." Although you can certainly argue that the Rays cannot compete consistently without a boost in revenue.
But there is another factor that makes a new stadium important. A factor that may be more important than crossing bridges, or moving to the geographical center of the fanbase, or getting closer to the corporate dollars.
That is, maybe this team just needs a new stadium to erase the one last taint from the Devil Rays era.
Even if you believe the Trop is an underrated experience (it is), and even if you think the drive across the bridge is not that terrible (it's not), this fanbase is just sick and tired of being pounded on and being made fun of because of that outdated grain silo.
Let's face it…nobody is going to respect this franchise until they get a new stadium.
And that psychological barrier has an impact on the team's bottom line.
Let's say you are a casual sports fan living in the Bay Area. And all you ever hear from fans of other teams, or from the talking heads on ESPN, is that The Trop SUCKS. And everybody curses the catwalks, and makes fun of playing baseball in a warehouse. All that is doing is making it less likely that the casual sports fans are going to become Rays fans.
And once we add in the tangible benefits of moving out of St. Pete, we can start to paint a picture in which replacing The Trop is indeed needed.
Maybe the Rays don't need a new stadium to avoid losing money. But this team, and this franchise, and this fanbase, do need a new stadium so that we can finally put the Devil Rays in our rearview mirror.
Likes

(

0

)
Dislikes

(

0

)