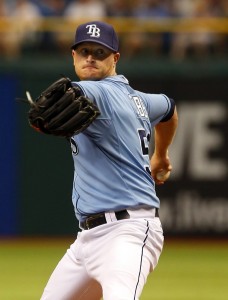 The GBT – The Good, The Bad and The Telling sandwich, where The Bad is nice and lean and the The Telling is ripe.
THE GOOD: Alex Cobb. The final line (4.1 ip, 4 runs, 4 hits, 4 walks, 3 Ks) wasn't pretty. But in a few instances we saw why there is a lot to like about Cobb. His fastball (90-92) isn't overpowering, but his changeup is big league caliber. And in this case, calling it a "changeup" isn't very accurate. Thrown at 87-88, it is not far off his fastball in terms of speed and its action is more like a forkball or a split-fingered fastball.
THE BAD: Ben Zobrist. Uncharacteristically, Zobrist's defensive decision-making has been horrible early in the season. There were a couple of ill-advised dives in the outfield. And yesterday, playing second base, he allowed himself to get duped, leading to the Angels' go-ahead run. With 1 out and runners on the corners, Zobrist fielded a slow grounder. He went to tag the runner coming from first, but when the runner slowed, Zobrist was forced to throw to first. A rundown ensued and the runner on third scored before the third out was recorded. The smart play there is to get the out at second and look the runner back to third. Don't worry if you can't get the double-play…John Jaso. It is hard to go 2-4 and have a rough day, but Jaso did. A throwing error led to one run. Failing to block a wild pitch in the 8th put the eventual go-ahead run on third base. And grounding into a double-play killed the Rays last hope for a rally in the 8th.
THE TELLING: Alex Cobb was sent back to Durham following the game. No word yet on who will be called up to replace him…Reid Brignac now has 71 plate appearances without an extra-base hit. That is by-far the worst mark in baseball now that Will Rhymes has a double…Meanwhile, Sam Fuld ended an 0-18 skid with a double in the first inning.
THE JUNKYARD DOGS WEBTOPIA…
DOWN ON THE FARM…

David Price taking BP
Likes

(

0

)
Dislikes

(

0

)