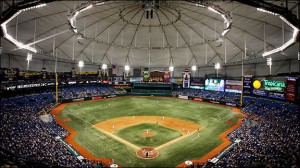 Prior to the 2010 playoffs, Major League Baseball changed Tropicana Field's ground rules affecting batted balls that strike the catwalks. Those changes were in effect for a grand total of three games.
Today, the Rays announced that the groundrules will revert back to the pre-postseason rules. In short, any ball that strikes one of the two inner catwalks will still be live until it hits the ground or is caught by a fielder. If the ball lands in fair territory, it will be ruled fair.
For the playoffs, any ball that would have struck one of those catwalks would have been ruled a "do over."
We have long been proponents of changing the groundrules to the "do over" rule. And we are at a loss to explain why Major League Baseball would want to revert back to the old rules.
Why were the new rules good enough for the playoffs, but they are not good enough for the regular season? Is MLB admitting it made a mistake for the playoffs? Will MLB change the rules again if the Rays make the playoffs this year?
The "do over" rule wasn't great. But it sure beats the hell out of watching fielders scramble like kids in a little league game.
Likes

(

0

)
Dislikes

(

0

)