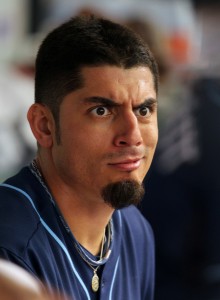 We made several radio appearances yesterday and the most common question we were asked was whether the Rays traded Matt Garza to make the team better or to save money. The answer was simple: Both.
We have Garza projected to make $5.25 million in 2011 (through arbitration). If he is replaced on the roster by league-minimum player ($414K), the Rays will be saving almost $5 million this season. And if no other players are added to the roster, the opening day payroll now projects to be ~$33.3 million.
As a side note, with Garza gone, the Rays highest paid player in 2011 will be BJ Upton (~$5.0M)
$33.3 million is quite a step down from the 2010 opening day payroll of $72.8 million. And yet, one could make a case that the 2011 roster is still better than the 2008 roster that had an opening day payroll of $43.8 million (Now, that doesn't mean this team is going to the World Series. Just that, on paper, they might be better).
But $33.3 million is also a lot less than $50.0 million which is about where Stuart Sternberg hinted the payroll would be in 2011. And the Rays didn't have to trade Garza now. That makes this look like a fire sale. But is it?
Not necessarily. The Rays are always looking to do two things: Make the team better and save money. And the Rays may have been trying to do both with this trade.
But how do we define "making the team better"? We just don't know what to expect from Jeremy Hellickson over the course of a full season. It is not unreasonable to think the 2011 Rays lost 1-2 wins by trading The Garza Complex. And in the AL East, 1-2 wins can be the difference between the Wild Card and playing golf.
In terms of this trade, the Rays think they have made the team better. But the "better" won't come until at least 2012 and maybe later. Each of the prospects received from Chicago has a high upside, but they also all come with red flags. Chris Archer has had some control issues and may be destined for the bullpen. Robinson Chirinos is already 26 and has only been a catcher for two years. Hak-Ju Lee already has 60 errors in 180 minor league games as a shortstop. And Brandon Guyer hasn't been able to stay healthy.
But if just two of these prospects pan out, the Rays will have saved $5 million this season and picked up at least 12 years of service time from at least two good players.
And while a $33.3 million payroll looks scary, keep in mind that the Rays still have time to spend some of the money saved. Just think, Andrew Friedman could go out and get Jim Thome, Grant Balfour and another big bullpen arm and still have a payroll less than $50.0 million in 2011.
We have been calling 2011 a "Reloading Year" for a while now. Trading Garza fits that model. Take a small step back, take a deep breath, field a good, if not contending, team in 2011 with an eye on making another run for the big prize in 2012.
Saving money now means more money to spend later. And more prospects now means better players in 2012 and 2013.
Trading Garza hurts the Rays chances of competing in 2011. But they may have just dug their heals in the ground. And they are getting ready to push back in 2012.
Likes

(

0

)
Dislikes

(

0

)