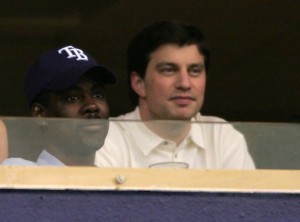 With the recent signings of Rafael Soriano, Chad Qualls and Grant Balfour, the Rays are now up to 10 picks before the second round and 12 of the top 100 in this year's amateur (Rule 4) draft.
Here is are those picks currently. All of the picks could still slide down as other free agents sign with new teams…
FIRST ROUND
24 (from Red Sox, Crawford)
31 (from Yankees, Soriano)
32 (Own)

SUPPLEMENTAL ROUND
38 (Supplemental, Crawford)
41 (Supplemental, Soriano)
42 (Supplemental, Balfour)
52 (Supplemental, Benoit)
56 (Supplemental, Choate)
59 (Supplemental, Hawpe)
60 (Supplemental, Qualls)

SECOND ROUND
78 (from A's, Balfour)
93 (Own)
Many have wondered aloud if the Rays can afford to sign that many high draft picks. But without a pick in the top 10, the cost of these players should still be within the Rays' tight budget.
Either way, the 2011 draft is going to be a lot of fun.
Kevin Goldstein of Baseball Prospectus calculated the cost and based on comparable picks from last year's draft, the Rays will only be responsible for approximately $9.12 million.
And as we have stated in the past, the Rays can also use the plethora of picks as a negotiating advantage. Even if the Rays don't sign 2-3 of the players, it will still be a huge draft haul in a deep draft. So the Rays will have some freedom to play the take-it-or-leave-it card as needed.
Likes

(

0

)
Dislikes

(

0

)