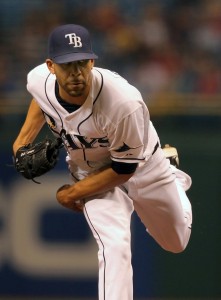 The GBT – The Good, The Bad and The Telling sandwich, where The Bad is nice and lean and the The Telling is ripe.
THE GOOD: Roy Halladay. At least the Rays weren't no-hit like the Reds. Still, watching that Phillies team last night left us wondering if they just had their Larry-Bird-in-the-'86-3-point-contest moment. Because it sure seemed like they just walked in the room and said, "We're just looking around to see who is going to finish second."
THE BAD: David Price. Maybe James Shields should have pitched game 1. We're kidding of course. But seriously, should he have?…GTMI Fail. A team won't get very many chances to push runs across against Cliff Lee. So when the Rays loaded the bases in the first with only 1 out, it was a critical blow when they failed to score. After loading the bases, Lee went on to retire 20 of the final 23 batters he faced…Donut Lineup. As in there is a big hole in the middle. It is bad enough that the Rays game 1 lineup featured two guys hitting under .200 and five hitting under .240. But even worse is a 5-hole hitter (Carlos Pena) who had the lowest batting average in the majors this season and a 6-hole hitter (Rocco Baldelli) that had 25 plate appearances all year. Those two went a combined 0-6 with 5 strikeouts and 7 runners left on base. And to make matters worse, Pena missed two scoops on errant throws that he would normally make…TBS. First there was Buck Martinez, who seemed shocked that David Price would throw so many fastballs in the first inning. My 13-month old daughter knows Price is about 90% fastballs these days. But then there was the Carlos Pena at bat in the bottom of the first. Did he get hit by a pitch with the bases loaded? Did the ball touch anything? Several people have said they could clearly hear a sound prior to hitting the catcher's mitt. We still haven't seen a good enough replay to know. With HD technology and 876 cameras, how TBS could not provide a clear replay is beyond us.
THE TELLING: Is today's game important? Of the 22 best-of-5 postseason series in which the home team lost the first 2 games, only 1 came back to win the series…
WHERE THEY STAND: The Rays trail the Rangers 1-0 in the best-of-five ALDS. Today is game 2 at 2:30. James Shields will face CJ Wilson.
THE JUNKYARD DOGS WEBTOPIA…
Business Insider has launched a new website, "Sports Page" that will deal with the business side of sports. I will be a regular contributor over there. In addition, I've heard there is another name that is very familiar to Rays fans that will be joining me. So there should be plenty of Rays content. [Sports Page]
Carlos Pena says the ball did graze his hand (Video). [The Heater]
We mentioned a couple of days ago that the BRaysers would soon be available for purchase. Eduardo Encina has the details. [The Heater]
Bud Selig is concerned about the local market. But is he concerned about Tampa Bay as a whole, or just St. Pete? It is not clear. [Shadow of the Stadium]
Ed Price writes about why Joe Maddon still has confidence in James Shields and why Shields wasn't as bad this season as you might think. [Fanhouse]
Joe Maddon appeared on the "Mike and Mike Show" on ESPN Radio. Here is the audio. [ESPN Radio]
John Romano on Joe Maddon: "…the middle finger that seems permanently raised at the establishment." Good read on why JoeMa is the way he is and why that frustrates us so much. [St. Pete Times]
Remember the Rays usher we spotted a couple of weeks ago that has an uncanny resemblance to Joe Maddon? Lane DeGregory has his story. [St. Pete Times]
Click on the "AL East Race" tab on the right side to see a cool graphic on how the Rays came to win the AL East. [Boston Globe]
Likes

(

0

)
Dislikes

(

0

)