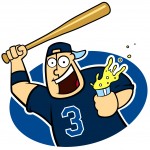 How bout those freakin' Rays!
Funny thing about the Rays tying the series at two this weekend is that the wins were all about talent, not managing and all the other things Rays fans argued and agonized about for the past six months.
These victories were simply the Rays hitting and pitching a lot better than the Rangers.
All season long, pundits said the Rays were stacked with talent, despite the poor batting average. And Joe has to believe that if the Rays could march into very hostile territory in Texas and win two elimination games, then the cream has fully risen to the top — at least for now.
Evan Longoria showed up, and Carlos Pena proved his Saturday breakout game was no fluke. Pena was even smacking the ball to left field. Oh, how Joe wishes Pena didn't have all day Monday to think about it.
The pitching, for the second straight day, was exactly how the Rays drew it up all season. Joe can't say enough about Wade Davis pitching well beyond his years and experience.
How great it feels to be a schizophrenic Rays fan right now.
Is there any other kind?
Likes

(

0

)
Dislikes

(

0

)