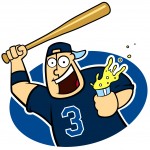 Joe used to think it was easier to accept a thorough beating than losing a close game.
Joe has changed his mind.
The two humiliations the Rays and Joe Maddon have endured in these playoffs is like no fan-related pain Joe has endured in a long time. The Rays are out of synch in all phases of the game.
The red flags were there when they had atrocious performances in must-win games against Baltimore and Kansas City, but even cynical Joe thought they could flip a switch come playoff time (minus James Shields, whose switch shorted out long ago).
But the Rays are horrendous right now. They've scored one run in their past three home games after today's 6-0 clobbering by the Rangers. The maddening Maddon system is failing. Nearly the whole team is flat. So much for all those days off during the season to be ready in October. Phhhh!
Joe's at a loss for words that don't start with F.
The only hope for Joe is that this season is so bizarre that it wouldn't be shocking if the Rays brought a Game 5 back to the Trop.
Likes

(

0

)
Dislikes

(

0

)