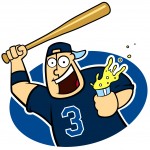 Yes, the Rays are AL East champs. Who knows when (if?) we will read that again?
After such putrid, disgusting Derek Shelton-influenced hitting the past week, it warmed Joe's heart to see the Rays fight back to win the division this afternoon.
Well, they didn't actually win it per se, the Yankees lost it. Still, it meant a lot to Joe that the Rays didn't just throw the game away so they could shower themselves with champagne. At least the Rays can't be fingered as backing into the division crown.
Also good to see windmill Carlos Pena get a two-run double to tie the game up late.The Rays need him terribly if the Rays are to make a return to the Fall Classic.
Interesting that Jeff Niemann pitched in relief. Is that a postseason harbinger of things to come?
Fitting that MFIKY closed the game out with a save.
Now, the fight for playoff tickets begins. Bring on Cliff Lee, Rangers. You now have to prove you can win in that dreaded of all postseason venues, the catwalks of the Fruitdome.
Likes

(

0

)
Dislikes

(

0

)