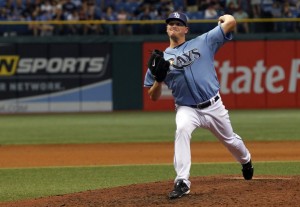 The GBT – The Good, The Bad and The Telling sandwich, where The Bad is nice and lean and the The Telling is ripe.
THE GOOD: Jake McGee. Joe Maddon would probably love a second lefty in the 'pen in October. And after McGee's 1-2-3, 2 strikeout 9th inning, and a fastball that reached 99, McGee took a big step in that direction…8. That is the Rays magic number to clinch a playoff spot with 14 to go. And while the Yankees have a half-game lead in the division, the two teams are tied in the loss column and the Rays hold the division tie-breaker. So in reality, the Rays hold a half-game lead over the Yankees.
THE BAD: Ex-Rays. They have been beating the Rays all season. This time it was Scott Kazmir in his first start at The Trop as a visitor…Jeff Niemann. Last week we projected Niemann as the 4th starter in the playoffs because we figured he would get things straightened out in the final 3 weeks. Now we have to believe that the 4th spot belongs to Wade Davis and Niemann is the one on the outside looking in.
THE TELLING: The Twins are 1 game behind the Yankees for the best record and home-field advantage in the AL playoffs…
WHERE THEY STAND: The Rays are 89-59, one-half game behind the Yankees and 6.5 games ahead of the Red Sox in the Wild Card. After 148 games in 2008, the Rays were 88-60.
THE JUNKYARD DOGS WEBTOPIA…
If you want to ""register for the opportunity to purchase [postseason] tickets," you can do so at RaysBaseball.com. [Rays Baseball]
Evan Longoria talks about the upcoming series with the Yankees (Video). [The Heater]
Tony Fabrizio writes that Jake McGee made a strong case for a spot on the postseason roster yesterday. [Tampa Tribune]
Are you sitting down? You will want to be sitting down when you see this video of the Rays in their "Loudmouth pants." [The Heater]
Ben Carsley of NESN says Victor Martinez would fill two big needs for the Rays this off-season. [NESN]
A sheriff's deputy was suspended from duties after getting kicked out of the Trop for refusing to turn his offensive shirt inside-out. No word on exactly what was on the shirt. [Bradenton Herald]
WFLA's Gayle Sierens interviewed Sweet Swingin' Matty Joyce and his dad (Video). [TBO.com]
The Bucs are now 2-0 which means a 64.1% shot at making the playoffs. Not bad for a team many thought would win less than 5 games. [Joe Bucs Fan]
Likes

(

0

)
Dislikes

(

0

)