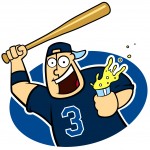 Joe's depressed. What looked like the best starting pitching in baseball is now pretty much a one-man gang: David Price.
First it was James Shields, then Jeff Niemann and now Matt Garza. Guys, late-September is not the time of the year to go into a funk. Not when your team is on the cusp of the postseason.
Even with Garza having a less than Garza-like game, even when he put himself into a nasty position like the fifth when the Yankees had the runners on the corners and no one out, it could have been worse, much worse. The Yankees only scored two runs.
Yet the Rays rallied. Again. Damn, Dan Johnson is one clutch mother.  And it was all pissed away shortly there after. Grant Balfour, why did you throw a high pitch to Curtis Granderson, just where he wants the damned ball?
Look, Joe's not going to jump off the Sunshine Skyway Bridge, not yet. The Rays can still escape from New York in first place. Whether the starting pitching is up to the task the next three night, well, time will tell.
Likes

(

0

)
Dislikes

(

0

)