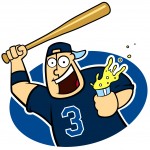 Joe is still violently slapping his glove and yanking his shirt tail out of his pants over this win by the Rays tonight.
Joe could go on and on about how MFIKY was nearly dominant. Joe could be utterly giddy over the clutch power hitting of Dan Johnson. Joe could also high-five Merlot Joe for getting launched after the umps did their best to get the Yankmees a win.
But no! Joe has to type words about the return of James "Big Game" Shields! What a performance. This is the guy that is supposed to be the Rays ace. This is the guy who is supposed to be the stopper. This is the guy who was supposed to be the veteran leader of the starting rotation.
Has he returned? Joe sure hopes so. If this can be a turning point in the season for Shields, Joe is quite confident late-October baseball will be played at the Fruitdome.
Just a great, great win with too many positives too highlight for the first place Rays. But Joe will end his gleeful rant with this nugget:
Joe hopes Derek Cheter contacts some unfortunate medical ailment from that TV cheerleader he shacks up with.
Likes

(

0

)
Dislikes

(

0

)