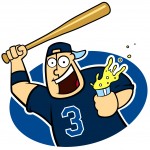 Well, that was special, wasn't it?
Matt Garza channels his inner James "No Game" Shields and starts coughing up bombs to the Red Sux, blowing a four-run lead.
Joe's trying to put this in the past. Of course, Gazra is not perfect and if he is to have a mulligan, better now than next month. Had Garza pitched halfway decent, the Rays likely would have won. The inconsistent offense of the Rays actually had five runs, usually good enough for a win.
Again, Garza can't be perfect, but damn. Now the Yankmees gained another game on the Rays.
Oh, well. Time to turn the page. Day off Thursday before heading to Toronto for the weekend.
Likes

(

0

)
Dislikes

(

0

)