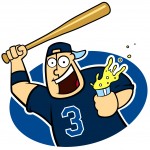 After giving the Rays a standing ovation for the sheer focus and will to win tonight against Cliff Lee, Joe had to offer up a personal curtain call to Jason Bartlett.
Bartlett's extreme hustle from first base to beat the throw to second off a Carl Crawford routine grounder to second was extraordinary.
Truly the stuff of pennant winners.
That kept the second out off the board in the eighth, probably led to Lee being more aggressive with Evan Longoria, and the rest goes down as one of the great wins of the season. Rays 6, Rangers 4.
Joe almost has to believe a team-focused win like this against Lee rivals the confidence boost from Matt Garza's no-hitter exactly three weeks prior. The Rays took that win and ran with it a good ways, and Joe expects a similar response through the rest of this Rangers series.
The Kool-Aid tastes real good right now with the Yankees losing and the Rays tied for first — 44 games left, a 5 1/2-game wild card cushion, and the final 10 against Seattle, Baltimore and Kansas City.
Sure, there's plenty of time for an epic collapse. But the vise is finally in the ready position.
Joe doubts these Rays' bats can get it done in October. But after a gutsy win like this, it's harder to believe that will matter.
Likes

(

0

)
Dislikes

(

0

)