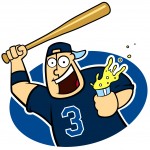 It's hard for Joe to get all depressed and worked up over this extra-innings loss to the Twins the way the Rays have been playing so well in this homestand.
Still, only scratching out one run on five hits in 13 innings is a bit troubling despite Merlot Joe (finally) getting the idea to keep Matt Joyce in right field.
 Was David Price dominant? No, but he was still damned good and certainly gave the Rays ample chance to win. Any time you hold your opponent to one run you should win.
 It wasn't like the Rays didn't have chances with the leadoff doubles they cracked. If you lead off an inning with a double and can't score that's not good.
 At any rate, Joe's not going to cry in his beer too much tonight. The Rays are still in first place.
Likes

(

0

)
Dislikes

(

0

)