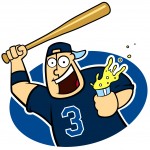 The Bad News Bears theme churned through Joe's head after the first inning like it used to when Shawn Camp and Casey Fossum took to the mound for the good guys in 2007.
Sean Rodriguez cued up the music trying to get two when he should have gone for one.
And it came back for another rousing chorus in the third inning, after Andy Sonnanstine served up a three-run meatball and when B.J. Upton ran through a Tom Foley stop sign en route to third base, where Gabe Kapler was waiting for him.
Upton's head-up-his ass, rally-killer baserunning surely didn't surprise Joe or any Rays fan, but it's just so comical when it comes on the heels of him going from first to third on a groundout to third base in the first inning.
A little feasting and lots of famine with Bossman. If he was thinking for second, he should have known Kapler would be held up with one out and Carl Crawford up next.
Joe's calling for Bossman to have mandatory sessions with a new cutting-edge team shrink for the stretch run. It couldn't hurt? One would think Joe Maddon would embrace that kind of thing.
But the Rays' bats came alive, and Sonnanstine scored some arbitration points, so all is rosy in St. Pete.
The guy hitting .200 brought the grand slam, and the bullpen slammed the door.
All Joe's hoping for is for one or two of the guys with multi-hit games today to really get hot immediately.
Right now the Rays still look like a team that can't count on a winning road trip next week.
Likes

(

0

)
Dislikes

(

0

)