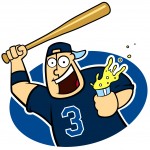 Bad calls, stupid mistakes and unaggressive hitting aside, the Rays didn't beat themselves 3-1 on Friday, the Sox stuck it to them.
Joe hates those kinds of losses. It sucks to have to admit when you just weren't as good, especially with ace David Price on the mound.
What drove Joe insane is Carlos Pena and B.J. Upton with their bats on their shoulders in the eighth inning down two runs. How exacly was Pena fooled by a fastball into a feeble check swing?
Swing the damn bats.
Sean Rodriguez did his best B.J. Upton impression getting picked off second/caught stealing third with two outs in the fifth inning. And Upton later rounded third like a high school kid and got thrown out at home in what was the game-changer. Though Joe knows the real issue was the Rays' feeble bats in the face of Jon Lester.
On the upside, Joe was fired up to have Price legitimately throwing inside to David Ortiz. It's about time, and Joe hopes to see that continue through the series and beyond.
How was that game not sold out? Not even 30K?
Tonight's not a must-win game in Joe's eyes, but the Rays can't get swept. So it's as good a time as any.
Likes

(

0

)
Dislikes

(

0

)