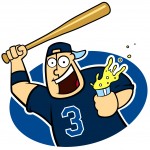 Maybe Matt Garza's no-hitter just raised the pitching bar so high for James Shields that he's willing himself to reach it.
Joe swears that no-hitter changed this team.
Maybe Shields just missed his nickname.
Whatever the reason that has led to Shields' great command, Joe's loving it. Take your nickname back, "Big Game." You earned it today in what was the biggest game of the Rays' season. Shields was dominant with 11 strikeouts and giving up just four singles in the 3-0 stomping of the Yankmees.
And how sweet was it for Shields get the very late caught-looking call on pinch-hitting A-Rod to end the seventh? That's usually the call that goes the Yankees' way.
The Yankees looked old and tired. With Lance Berkman there to push them over the top, Joe's more scared of the Red Sox getting hot. Sloppy defense doomed the Yanks, who didn't seem to want it nearly as much as the scrappy Rays.
Lineup roulette continued, and right on cue Joe Maddon had no problem sticking Chad Qualls into the fire in the eighth inning. Hefty set exhibited right there by the skipper, and Qualls was perfect lowering his ERA to 8.15.
Minnesota comes in Monday perfect in their last eight, a supreme test for Jeremy Hellickson's heralded debut.
Joe's hoping Hellickson makes it damn near impossible to send him back to the minors.
Likes

(

0

)
Dislikes

(

0

)