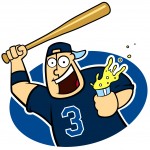 The getaway game was as ugly as it gets. Jeff Niemann pitched like Joe thought Wade Davis would have last night, and the Rays were toast in the third inning.
Then, like dangling ice cream in front of a dieting sorority chick, the Rays served up Andy Sonnanstine as dessert to the Angels. The drool was flowing. … If Joe were into wacked out conspiracy theories, he might think Sonnanstine doesn't mind getting lit up in long relief, as it might only help him get a ticket out of town and a starting job somewhere else.
In a festive mood and now waiting to bury the Sox, Joe's got to celebrate the almost-got-him play at third base by Willy Aybar. Barehanding a cue-ball shot to third base and nearly throwing out Hideki Matsui? Joe didn't think he had it in him.
Joe also liked John Jaso going with a pitch in the ninth inning for his third hit, rather than tyring to jack his second home run. That kind of discipline is what the Rays will need when it counts.
Yeah, Joe's reaching, but that's what you do in a blowout to end a 4-3 West Coast trip. It's hard to be annoyed.
And Joe learned something new with the passed ball turned fielder's choice. Joe still doesn't get it. Does anyone?
Likes

(

0

)
Dislikes

(

0

)