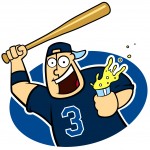 Don't be surprised if the Postgame Cup Of Joe nearly merges with The Hangover. Such is life when the Rays play on the left coast.
Of course Joe stayed up for the game! But had to hit the sack right after. Real life (work) calls.
Joe can sum up this Rays 4-3 win this morning in one word:
MFIKY.
Nine pitches, three strikeouts. That's pitching!
Speaking of pitching, James "No Game" Shields struggled worse than partying Scott Kazmir. If not for the Rays defense, this would have been a loss, no question. The Rays defense, Sean Rodriguez in particular, bailed out Shields time after time, inning after inning.
Bossman, who has been hitting well the last month or so, almost made a circus catch in left-center field that would have made Jim Edmonds bow. Had Bossman pulled that off, the ball was off his glove, we'd be watching that highlight for years.
Pitching and defense, specifically relief pitching and defense, got the win for the Rays this morning.
Likes

(

0

)
Dislikes

(

0

)