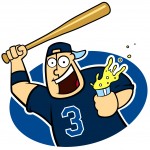 Joe Maddon hates when his players don't give their all, yet it's apparently good baseball for him to wave the white flag in the seventh inning down seven runs on a day when balls are flying out of the ballpark in record numbers.
Is there any explanation why Merlot Joe chose to strike fear in the Blue Jays by pinch-hitting Gabe Kapler for Evan Longoria after Dan Johnson just belted a two-run bomb to make the game 14-7?
Surely Maddon just learned the it-ain't-over lesson at the Fruitdome on Thursday.
This Joe can hear every allegedly logical explanation for ending Longoria's day. As a fan, it sucked.
Perhaps the ugliest fallout of this game will be James Shields' confidence. Joe suspects he doesn't have the grit to recover so fast from allowing six bombs in four innings . He and Garza are the starters who need that feel-good mindset to succeed, and unless Shields is a changed man, it might be a while until he bounces back.
As for Carl Crawford sitting out again to rest, Joe had to laugh at Maddon's pre-game comments, per Roger Mooney, Tampa Tribune beat scribe: 
Maddon did say Crawford is available to pinch-hit, and he conceded it was hard leaving a player who's hitting .302 with 38 stolen bases on the bench with the Rays struggling to find offense.

"Absolutely, it is," he said. "But again, you have to look at the long term, and it's like the old road sign (says): Temporary inconvenience; permanent improvement."
Long term? Crawford has what, two months left in his final season with the team? Rest the guy after a playoff spot is clinched. If it even happens, that should be enough, along with any pain killers, to get Crawford through the World Series.
Losing four in a row in August and still just a game off the best record in baseball. Unbelievable.
Likes

(

0

)
Dislikes

(

0

)