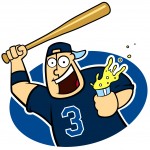 Games 2 and 3 of this Rangers sweep really didn't surprise Joe.
As Joe wrote Monday, the brilliance and grit of rallying to beat Cliff Lee was sure to put the Rays on an incredible high rivaled only by Matt Garza's no-hitter.
What was so impressive is how the Rays are incorporating so many elements of great baseball.
Sure, there's the glamor stuff of Evan Longoria's smacking the cover off the ball, and James "formerly Big Game" Shields getting back on track, but Joe's applauding the subtle brilliance of Carl Crawford today.
He cut off a sure double turned single in the gap early that was just stellar defense, and later worked an 0-2 count into a 3-2 sacrifice fly to drive in an insurance run. Just great stuff.
Small stuff. But the stuff of champions.
And then there's Sean Rodriguez, his wet-vac days behind him, with a stunning catch in right field, as musical chairs in right isn't keeping the Rays from the best record in baseball.
The bullpen folded, and Joe's just not seeing the value in Chad Qualls, who is proving he's the same crappy pitcher he was in Arizona.
Facing stud Trevor Cahill on Thursday in Oakland is a very tall order, but Joe's a lot more confident the Rays could pull out a decent road trip and return home to flat out bury the Red Sox — in August.
Likes

(

0

)
Dislikes

(

0

)