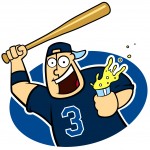 Color Joe disturbed.
Man, everything seemed to be going so well in this game, especially Red Sux killer Dan Johnson — seemingly forgetting he wasn't playing Boston — doubled to deep center, giving the Rays a 3-1 lead.
Sure, starter Jeff Niemann struggled a little bit in the previous inning but he got out of it and it seemed a near slam dunk that MFISUO and MFIKU would do their typical eighth and ninth inning dances and subsequent pulling out the shirt tail.
Rather, Niemann completely came unglued in the sixth. Niemann, in his first start back from the disabled list last week, was simply shelled by the Angels. After five innings, Niemann seemed fine. But is he?
Joe's very concerned there's still something wrong with Niemann. Joe's trying to convince himself that Niemann just needs a little work and a very strict, limited pitch count through the next two weeks.
This is something Jim Hickey and Merlot Joe need to keep a very close eye on. Sure, it would be nice to have Niemann for the playoffs. But Joe would truly hate to see Niemann go under the knife and miss the entire 2011 season too.
Likes

(

0

)
Dislikes

(

0

)