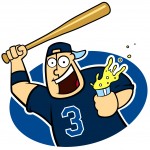 Joe's not above taking pause to give thanks for the baseball gods placing Evan Longoria on his team.
There was a lot of talk earlier this season about leadership on the Rays in the face of B.J. Upton's post-jogfest dugout tirade, when Dirtbag got up in Bossman's face. At this point, Joe can't imagine how Longoria isn't the proverbial straw that stirs the drink and the team leader.
When he's on, as he's been lately, Joe sees that real championship swagger from the Rays coupled with the damn-he's-good expressions from the opposition. It's enough to almost have Joe believing the Rays have the playoffs in the bag.
Being six games up with 36 to play with the final nine against Seattle, Baltimore and Kansas City doesn't hurt, either.
The 10-3 laugher last night was surely welcome with Wade Davis returning from the disabled list. Joe was hoping he'd get an early lead so he could just throw fastballs and not worry about much else. And that's what he got and the Angels couldn't do much with him.
Joe got a huge laugh out of Joe Maddon getting ejected with a comfortable lead. Of course, it came against the Angels again.
It's becoming obvious that somebody out there questioned his manhood during his days with the Angels, and he's got some sort of secret need to turn into Lou Piniella when he sees halos. One would think getting to change his lineup card like he did yesterday would have soothed him.
Joe's glad these West Coast late games are history. Watching a wild Andy Sonnanstine close out the ninth inning of a 10-3 game with 22 pitches is enough to put any man to sleep at 1 a.m.
Likes

(

0

)
Dislikes

(

0

)