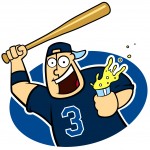 Damn what a sad loss. The Rays had the win slip through their fingers, specifically Dan Wheeler's fingers.
[Full disclosure: Joe watched the game from The Venue with a Duke grad student, a classy, shapely, wine-drinking chick named Barbara-Ann. Yes, Joe was way out of his league. Joe's a shot-and-a-beer, state university kinda guy.]
Can't pin this loss on Andy Sonnanstine. Dude gave five strong innings, which is about his limit. No, the problem was Wheeler and perhaps Merlot Joe.
This Joe was under the impression that Wheeler was only a good pitcher against righties, that lefties often tagged him. That's what happened in the fifth inning when he got lit up, and lost the game for Sonnie and the Rays.
Friggin' Coco Crisp. Bad enough he tried to take out James Shields a few years ago at Fenway Park. Now he robs Matt Joyce of a blast to center field that made the difference in the game.
The worst thing about this loss is what happens in the next game.
Uh, oh. It's Friday. We all know what happens on Fridays for the Rays.
Likes

(

0

)
Dislikes

(

0

)