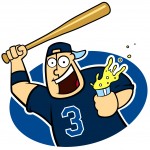 Leave it to the big dogs to get the Rays a win, a series win split, which is not easy to come by in Oakland, the first Rays series win in the land of Raiderfan since 2008.
Gee, what happened that year?
Matt Garza, the Rays No. 1 pitcher of the moment (take a pick between Garza, David Price or Jeff Niemann for the No. 1 Rays pitcher flavor of the week), was pretty damn sharp. Giving up just four hits in 7 2/3 is a very, very, very solid effort.
Then when the Rays needed it the most, leave it to Carl Crawford and Dirtbag to get the job done. Dirtbag's two-run double to left scoring Jason Bartlett and Crawford was all Garza, MFISUO and MFIKY needed.
Great way to end the series that was almost too close for Joe's comfort. Sans the Rays Friday hex and Dan Wheeler's gagging away a lead Thursday, this very well could have been a sweep.
Joe's not discouraged. This team finds ways to win more often than finds ways to lose.
Now on to the City of Angels! Time light up Scott Kazmir and his gaudy 6.40 ERA.
(Joe will be more than happy to comfort Kazmir's insanely hot girlfriend, who works a trendy, popular Tampa Bay area hotspot frequented by grinding, scantily clad hotties, following a sound beating to the Angels tomorrow.)
Likes

(

0

)
Dislikes

(

0

)