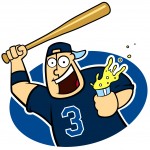 Well, thanks to Dirtbag, the Rays avoided being no-hit by Bob Gibson Sunday.
Oh, that wasn't Bob Gibson? Morrow is the guy's name? Wow, Joe never knew Ken Morrow could pitch. Dude was a helluva hockey player for the Islanders. Guess a great athlete can also be a good player at another sport… wait, it's not Ken Morrow?
Brandon Morrow you say? The man with the vaunted ERA pushing 5.00? Really? This is the guy who tossed 17 strikeouts against the Rays today? Really?
This is getting to be absurd. The Rays lead the American League in strikeouts with 864. Joe knows you can't do this in early August with a team that, if the season ended today, would win the American League wild card, but how can Rays hitting instructor Derek Shelton sleep at night?
Under the watchful tutelage of Shelton, the Rays have been no-hit twice this year and came a whisker away today from setting a modern baseball record for being no-hit three times in a season (and there's a plenty of time for that mark to be reached this season).
Gary Shelton of the St. Petersburg Times could do just as well as a hitting instructor. Rays color analyst Brian Anderson had a telling piece of information in the ninth inning on Sun Sports when he remarked it was the first time he saw the Rays adjust to Morrow's slider all game long.
In the ninth inning no less!
Please feel free to detail veteran players who have improved their hitting this year with Shelton guiding them? Has he helped B.J. Upton? Has he helped Carlos Pena? Has he helped Ben Zobrist? Has he helped Jason Bartlett?
The answers are no, no, no and hell no.
Yet another wonderful pitching performance pissed away, just like Friday night. Joe raises his glass for Andy Sonnanstine. Well done son, well done. Too bad your team has a joke of a hitting instructor and your fine performance was wasted.
Yes, it's too late to run Shelton now. Going into the stretch run of the season with a new hitting instructor could do more harm than good. Besides, the Rays still have the second-best record in baseball despite Shelton which explains just how wonderful the Rays pitching truly is.
If Joe were Andrew Friedman, the minute the final out of the season is recorded, Shelton should be told to pack his bags and be given a one-way ticket out of town.
Likes

(

0

)
Dislikes

(

0

)