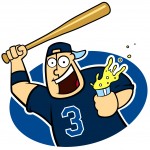 Rays fans about now fall into two categories:
1) Happy as all get out that the team is playing .600 ball and in great shape in mid-August
2) Missing wads of hair because Joe Maddon drives them insane and the inconsistency of the team smells like a playoff collapse in the making.
Joe's in both camps.
The presence of Dan Johnson in the leadoff spot today was enough to leave Joe assembling barf bags by noon. There were better choices than Johnson, and he didn't deliver in the 3-2 loss in Detroit.
Do great teams bat Dan Johnson leadoff at this time of year? Joe's quite sure they don't. 
And there Johnson was, of course, with the game on the line after leaving five runners on base.
But here the Rays sit, 12-8 in 20 straight games with a day off tomorrow. It's a stretch in which they've enjoyed the absolute highest of highs and the lowest of lows, with the Orioles waiting for them at home on Friday.
Maddon surely is as confident as ever. Why shouldn't he be?
What Joe and other Rays fans are left with is absolutely nothing to count on, other than a new lineup card, some great pitching, and prayer to get the team hot at the right time. 
It's addictive, but hardly fun.
Likes

(

0

)
Dislikes

(

0

)