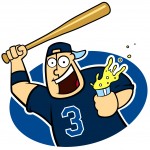 Joe has been as critical as the next guy over the Rays' lack of offense. The Rays didn't exactly light up the scoreboard today, either.
Know what, it doesn't matter when Hellboy is on the mound.
Hellboy, the moniker Twitterverse seems to have deemed the Rays' young stud pitcher Jeremy Hellickson — with Merlot Joe's approval — continues to put a smile on Joe's face.
Dude gives up three hits (again) in six innings. How can anyone not like this guy? Thanks to Hellboy, Joe has Oktoberfest dancing in his head and it has nothing to do with busty blonde waitresses in revealing attire serving good German beer in quart steins along with massive brats to devour.
If the Rays do make the playoffs (oh, look, the Yankmees lost!), how huge will Hellboy's starts wins have been? How many playoff-caliber teams can lose two starters — one of which is one of the best in the American League — at the same time, while witnessing its preseason ace stink the joint up worse than an uncleaned Fruitdome stall after an extra-inning game, and not lose one beat?
Hellboy is the story of the 2010 Rays and perhaps the savior.
Now the question is how to keep his arm from falling off. There's no question he will remain with the club after Jeff Niemann and/or Wade Davis return. Joe's guess is that Hellboy will go to the bullpen to be used as long relief/spot starter not unlike Andy Sonnanstine, an ode to Tony La Russa the way he used rookies Dan Haren and Adam Wainwright in the Redbirds' World Series runs of 2004 and 2006, respectively.
Now the very real question is what to do with James "No Game" Shields? Right now he is no more/less dependable as a starter than Sonnanstine, no better than a No. 5 pitcher with Hellboy on the roster. Could Shields be sent down? Could Shields be relegated to the bullpen?
Fun and serious questions to ask as the Tampa Bay area prepares for Rays Oktoberfest.
Fun questions that a stud like Hellboy has forced upon Merlot Joe.
Likes

(

0

)
Dislikes

(

0

)