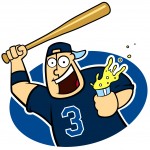 Joe's completely forgotten about hell June. This is way too much fun.
The crappy Indians rolled into the FruitDome tonight, and Wade Davis looked like a legitimate fifth starter on a contender, Carl Crawford channeled Dave Kingman, and John Jaso danced on the basepaths like Vince Coleman.
Rays 5, Indians 2. Six in a row.
Leave it to Crawford to throw a big bucket of cold water on the fire in his postgame interview. "You know, we still behind [the Yankees]," Crawford said.
Yeah, yeah, C.C., Joe's not getting down off his high so fast.
Joe's got to show Joe Maddon a little love for tossing Carlos Pena into the cleanup spot. Surely Merlot Joe was counting on Jake Westbrook hanging his share of sinkers, and Pena cracked No. 17 right on cue. Crawford also ate up some of those meatballs with two dingers, one estimated at 445 feet.
Defensive gems were everywhere. And Joe includes B.J. Upton's made-it-look-easy catch late among them. What Ben Zobrist makes look spectacular, Upton makes look routine.
Joe's fired up. He won't even nitpick and scold Lance Cormier for trying to barehand a ball going past him. (We need that hand, Lance).
Yeah, the Rays are in second place. But it feels like they're in the driver's seat.
Likes

(

0

)
Dislikes

(

0

)