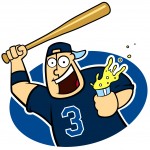 At least the Rays can rest easily knowing they didn't give their best yet still pushed the Yankees to walk-off heroics.
Sean Rodriguez was home with a wet-vac (one of the most pathetic absences in baseball history). Rafael Soriano never took his jacket off with the game tied and on the line. Carlos Pena was allowed to flail at cleanup against C.C. Sabathia. B.J. Upton was asked to be a smart baserunner at a critical time. And James Shields did what average pitchers like him do — pay dearly for big mistakes against good teams.
Hey, a 5-4 loss isn't so bad. These Rays are just toying with the Yanks. They'll crush'em when they really put their best out there.
Sarcasm aside, this was a brutally painful loss. The Rays caught Sabathia on a rare off night and couldn't cash in.
Why Carlos Pena, owned by Sabathia, wasn't laying down a bunt with the bases loaded and the game tied with nobody out in the seventh is beyond Joe.
There was no right-handed bat on the bench to turn to, and Pena had about as much chance of making legitimate contact swinging away as Joe does scoring with Kate Hudson.
Before the game, Joe Maddon said he was "happy with the body of work" turned out by Shields before the All-Star break. Must the skipper pour the syrup on so freaking thick? Doesn't he understand those pre-game radio chats are for living, breathing diehard fans trying to digest their dinners?
As for keeping a rested Soriano on the bench, one could argue that both ways. But bringing him in was a chance for the Rays to put their foot on the throat of the Yankees to set the tone for the second half. Maddon passed.
That might prove wise today, but nothing says "just fine with a Wild Card" like Lance Cormier a conservative approach.
Likes

(

0

)
Dislikes

(

0

)