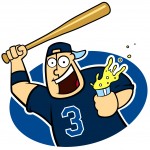 Whew. Joe is popping open a cold adult beverage on this late Sunday afternoon celebrating a win that had Joe disturbed for much of the game's final innings.
Happy as hell that Jason Bartlett, who may be an unfair target of some disgruntled Rays fans, got the game-winning hit. He and Andy Sonnanstine saved Merlot Joe from an embarrassing loss. Bartlett and Sonnanstine's heroics also covered up a depressing lack of reporting by the local fourth estate covering the Rays.
Joe, along with hundreds (thousands?) of Rays fans monitoring Twitter and the blogosphere while watching the game — yeah, people actually surf the net and e-mail while watching games on TV or listening on radio — wondered aloud why in the world Merlot Joe would pull Jeff Niemann after only 70 pitches?
Since we live in the 21st century (2010 to be exact), and newspapers are claiming they want to update people right away about news, couldn't someone, anyone in the Rays press corps have updated fans via Twitter? Or if they are so concerned with pageviews, put up a blog post that filled in fans why Niemann was pulled?
Now Joe knows that clubhouses are closed during games. But couldn't someone have asked Rick Vaughn or Chris Costello to call down to the dugout to find out what was wrong with Niemann? At least make an attempt.
By Joe's unofficial count, there must have been at least a half-dozen local reporters from various local papers and Internet sites there. Surely, if fans were abuzz at what was wrong with Niemann, the same question must have crossed someone's mind in the Rays press box. Would anyone have been fired for finding out this information and passing it along during the game?
Joe Twittered two reporters who cover the Rays and did not receive a response. That tells Joe that these reporters weren't at the game, or they succumbed to the 19th century news delivery service mentality of forcing people to wait for the Monday morning environmentally unfriendly newspaper to show up, wet from dew, on the front door.
For example, Joe Henderson of the Tampa Tribune will periodically Twitter thoughtful pearls of wisdom during a Rays game. That didn't happen Sunday, so this Joe is assuming Henderson was not at the game.
Now Joe has no enemies with any of the Rays press corps nor is he looking to make any, but he cannot understand why no one covering the Rays today saw fit to update fans on why Niemann was pulled so early, which nearly cost the Rays the game.
We live in an interactive society now people. Fans crave information, not clichéd, scrubbed, bleached, homogenized, empty quotes. The old way of doing things won't work. You can either learn to adjust and keep up with technology or have technology run over you. Business in the media has changed in the 21st century. If fans don't get what they are looking for, they go where they can find said information. No longer is news dictated by those in ivory towers; fans/readers dictate.
Had any Rays beat writer done the right thing and updated fans, they would have won a ton of street cred with readers. Joe's assuming editors if not publishers would have liked that.
This is the reason there are such a thing as sideline reporters, which brings Joe to Todd Kalas. Joe likes Todd Kalas a great deal. He's got a cool job. Who exactly wouldn't want a job where you get to hang out with Miss Florida contestants and chicks from a bachelorette party?
But once in a while Joe would love to see Kalas put that journalism degree from Syracuse to work and, you know, update us on… the game! It's nice all these feel-good features Kalas does for Fox Sports Florida/Sun Sports, but any hot babe just out of the University of South Florida with a zoology degree can pull that off.
When Niemann was pulled, Kalas should have made a bee-line to the dugout to find out why.
Well, we finally did find out after the game. Merlot Joe claims Niemann's back was acting up. Not sure this Joe totally buys that, it wasn't like Niemann wasn't still pitching strong. But OK. We found out.
The fact the professional (ahem) reporters never got around to reporting this information hours earlier was nearly as pathetic as gutless T.J. Rives not asking Raheem the Dream if he was going to be brought back to coach this season during an exclusive postgame radio interview after the final loss of a lost Bucs season.
After Niemann was pulled and Dan Wheeler nearly coughed up the game but did yack a two-run lead away, Joe couldn't understand why Merlot Joe was so quick to yank Grant Balfour and Joaquin Benoit. Is there some state law that forbids these guys to pitch more than one inning? Granted, these guys have pitched a lot lately but the next game isn't until Friday. Like pitching these guys two innings each would blow their arms up?
With the game tied and the Rays whiffing on way too many chances with runners in scoring position, Merlot Joe blew through six relievers in five innings. It was, as Bob Ryan once wrote, a glaring example of Creeping LaRussaism and basically reinforced what Yankees TV broadcaster Michael Kay said about Merlot Joe.
Look, this Joe is giddy the Rays are again 20 games above .500 and ended the first half of the season with a great homestand. But two Rays player fans like to beat up on, Bartlett and Sonnanstine, sure as hell covered up some serious over managing by Merlot Joe.
Likes

(

0

)
Dislikes

(

0

)