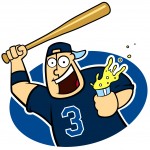 You're all getting annoyed by used to the Postgame Shot Of Joe here on your favorite Rays website.
But inevitably many of you are asking the question, 'Who the hell is Joe?'
Well, Joe is the collective voice of a couple of professional sportswriters with almost 40 years combined in the business, with a majority of that time in the Tampa Bay market. …Yes, Joe has a clue.
Joe was a Kansas City Royals beat writer. He's been a credentialed media guy covering the Rays. He even worked for MLB, and spent far too much of his life sitting in lonely minor league baseball press boxes.
And Joe is a baseball junkie and a huge Rays fan. Joe goes to games. Joe loathes Vince Naimoli. Joe knows "Ferg." Joe despises Naimoli. Joe wept when Danny Baez left. Joe's a big fan of the racoon that terrorized Naimoli.
As for all the third person shenanigans, Joe writes in the third person because he likes it. And also because that's the signature of Joe's wildly popular Tampa Bay Buccaneers blog, JoeBucsFan.com.
Outside of all that, Joe enjoys cold beer, spectacular blondes and naughty Latino woman.
Bring on the Yankmees.
Likes

(

0

)
Dislikes

(

0

)