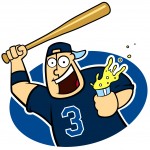 OK, Joe took three things out of this win by the Rays Wednesday.
The first, of course, was a chance to break out the brooms. Anytime that happens it's great, certainly. But even better when the win comes in front of so many Bostonites (rhymes with sodomites) at the Fruitdome. When you have a chance to put the proverbial foot down on the throats of the Red Sux, it gives the Bostonites a real excuse to talk as if they are being choked to death, not that they don't always talk like that, the freaking chow-DAH heads. AAAGGGGHHHHH!!!
The second thing that crossed Joe's mind is, he's not so sure that David Price isn't currently the best starter in the American League. Two consecutive strong performances against two of the American League's best teams, the Twinkies and Red Sux. He will enter the All Star break with a dozen wins. Impressive.
Price's 10 k/1 walk/7.2 innings performance Wednesday (wow, what a strikeout-to-walk ratio!) was just what was needed: it gave Joaquin Benoit and Rafael Soriano a much needed and deserved rest. It even provided for some unintended comedy relief with Matt Garza getting his first save as a Rays pitcher. The game ended a lot closer than it should have.
The third thing that crossed Joe's mind is Joe hopes Price does not start in next week's All-Star Game. If he does, Joe hopes it's a Bob Feller-style start. Feller, until just a few months ago when he reached 90, often played in charitable Old Timers' games. Feller would start the game for the AL stars, throw to one batter, and exit.
The Rays are going to need a fresh Price for this pennant drive and every pitch less he throws will mean that many more pitches and starts he can bring in September and October (and November?).
While starting an All-Star game would be a significant honor for Price, and very likely a nice bonus, Price and the Rays have much higher, loftier goals than a meaningless exhibition.
And yes, Bud Selig, the All-Star Game is meaningless. Sorry to break that to you and Ed Goren and David Hill.
Likes

(

0

)
Dislikes

(

0

)