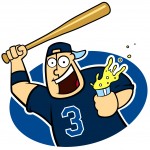 Now this is what a playoff team should look like. Joe is popping a cold adult beverage he's so happy.
There were a lot of things to like watching the Rays pound the dreadful Orioles, and not just Todd Kalas shoveling popcorn in his grill.
* The rebirth of Wade Davis. Could the Rays starter in his first full season have turned the corner? Granted, this was the putrid Orioles but this could be a springboard. Davis was nothing short of dominant and in Joe's eyes, until James "No Game" Shields can prove otherwise, Davis is the Rays No. 4 pitcher, with David Price, Jeff Niemann and Matt Garza being the Rays top three pitchers, in no particular order.
If the Rays are to win the division, as long as Shields continues to struggle, Davis must be better than average. Tonight he showed he can be. Again.
* Aggressive hitting, in particular from B.J. Upton. Joe just goes nuts watching Upton take strike after strike right down the pipe. Upton seemed more aggressive at each plate appearance tonight and that alone could be a major difference in Upton's offensive production.
* Jason Bartlett. The cool as a cucumber shortstop brought back memories of 2008 the way he attacked Orioles starter Chris Tillman, who Joe doesn't believe has won a game since the Reagan Administration occupied the White House.
* Hitting with runners in scoring position. Finally. Where was this yesterday against the Yankmees?
* The leather flashed by Sean Rodriguez. With plays like he made tonight, it's not a stretch of the imagination to see him compete for a Gold Glove at second base in the near future. Is anyone really regretting that Scott Kazmir trade now? Really?
Joe has to temper his excitement over tonight's win. Again, it's the Orioles. But playoff teams stomp on bottom feeders like the Orioles and take their lunch money.
Tonight, the Rays did just that.
Likes

(

0

)
Dislikes

(

0

)