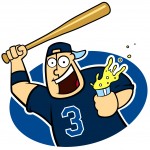 Absolutely loving how the Rays didn't only sweep the Tigers but sucked the soul out of them in the process.
You could heap superlatives left and right on the Rays about now. Randy Choate and Dan Wheeler looking like studs in starring roles. Sean "wet-vac" Rodriguez seemingly dried out now and delivering a big single to set up today's critical insurance run. And, of course, Joe Maddon's mad-scientist ego has to be at an all-time high after walking Miguel Cabrera intentionally again to load the bases.
On pace for 101.
Joe's got to hone in shortstop-today Reid Brignac's leaping grab in short left field in the first inning to stunt a Detroit rally.
That was a very tough play to execute after dancing around near second base holding a runner close. It's the kind of defense that just punches a team in the gut, especially one fishing for confidence after three tough losses and David Price on the mound.
The Rays all but stepped on Detroit's throat in the first inning.
So Stu Sternberg gets what he always dreamed of, a best-in-baseball, sold-out home series with the Yankees.
Joe suspects there won't be any stadium talk this weekend, or when they count all the money on Monday.
Likes

(

0

)
Dislikes

(

0

)