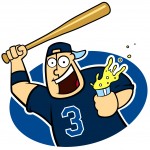 The bats are alive. The Yankees looked average. Joe's blood pressure is way down.
The contrast between Jeff Neimann and James Shields today was so glaring in their back-to-back starts against the Yankees. It was on Joe's mind all game.
Shields, who's easily got 80 or 90 career starts on Niemann, gives up homers and gets rattled. Last week it was a balk against Cleveland that threw him off. Crap, a gentle breeze seems to unnerve the guy.
Niemann is all poise. Coming off an injury without his best stuff today, the walking manbeast of a righthander managed the lead beautifully and clawed his way into the seventh inning and continued his extraordinary road success.
Joe wonders what team outside Florida will pay Shields' salary next year?
Like every self-respecting Rays fan, Joe was giddy over Reid Brignac jacking two homers into the right field bleachers. And it was nice to see Carlos Pena revive his contract fantasies look like a hitter. But Joe's not fooled. To expect much from those guys down the stretch is foolish.
The sheer dejection in the FOX announcers' voices when Brignac's three-run bomb gave the Rays an 8-2 lead was disgusting. It's pathetic that after all those years in the booth — and with the Mets — that Tim McCarver feels compelled to suck up to the Yankees. Tell us another Steve Carlton story, Tim. For Joe's money, McCarver made every effort not to paint Neimann as the superstar he is.
Sure, B.J. Upton failed in yet another aspect of the game, twice fouling off safety squeeze attempts. No surprise.
Maybe the sprinkler will go off in his hotel room later and he'll get Sunday off.
Likes

(

0

)
Dislikes

(

0

)