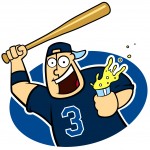 This was a particularly disappointing Rays loss for Joe. This was the type of game the Rays needed to stomp on the Yankmees and say, in so many words, "You have to go through us to win the division."
Instead, the Yankmees slapped the Rays aside as if to say, "Remember who the big brother around here is."
Sorry, but whenever you score five runs, you should be in the game. The Rays weren't.
Sure, it was just one inning in which the Rays let the game get away. Not sure if it was David Price's inability to target his pitches or if he mentally lost it in the fifth. Joe thought Price's reaction after Derek Jeter did a nice piece of hitting by fighting off an inside pitch to get the ball through the middle of the infield for an RBI odd. Price jumped up, as if showing a bit of immaturity. He was never the same.
This was sad to Joe. Price has been around the block a few times. He shouldn't get that rattled.
Damn. The Rays get to stud Yankmees pitcher Andy Pettitte, load the bases just after he leaves with an injury and they couldn't take advantage. That was the game right there. The Rays just cannot let that many scoring chances go to waste against the Yankmees. Put your foot on their throat!
Oh, well. The game's history. Time to focus on sweeping the putrid Orioles. This is what the Rays must do: Not just beat the teams they should beat, but sweep these rotten teams. That's what playoff-bound teams do.
If the Rays cannot win a series from the Yankees, they have to play that much better against the dregs of the American League.
Joe knows this much: David Price is not Randy Johnson. Not yet. But as long as James "No Game" Shields continues to stink the joint up, Price and Jeff Niemann almost have to be perfect in order to pick up Shields' slack and keep the team nipping at the Yankmees heels.
Shields is 2-7 in his last 10 starts. Every game in that same time period when he has given up a home run he has lost. Though he didn't pitch that bad Friday night, it's getting to the point where Joe has to wonder if Andy Sonnanstine can do any worse than Shields? Or perhaps Jeremy Hellickson?
Joe doesn't think it's a stretch to suggest the Rays' division title hopes rest on Shields' shoulders. It's too much to ask for Price and Niemann to be perfect down the stretch. Until Shields, or his replacement, turns things around, that's just what Price and Niemann have to be.
Likes

(

0

)
Dislikes

(

0

)