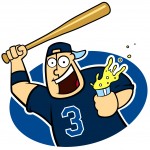 If Joe didn't know any better, he'd have thought he was watching the Mets and the Cardinals circa 1985 the way the Rays and Tigers pitched and played defense, all on turf.
It took some bold defense by Dirtbag to actually pull out the win, 3-2 for the Rays.
Clinging to a 3-2 lead and the bases loaded with one out, Miguel Cabrera grounds sharply to Dirtbag, who easily could have gunned down Austin Jackson at the plate for the second out.
Instead, Dirtbag makes a ballsy move to try to turn a 5-4-3 game-winning double play. Both calls at second and first were close. Almost too close for Joe. Reid Brignac did a helluva turn at second as well.
Joe damned near spilled his beer in excitement.
Meanwhile James "Had a Game" Shields really got the job done tonight. Whenever he doesn't allow a homer he has a shot to win. Anytime you only allow two runs, you should be in the game and that proved true tonight.
Nice to see Grant Balfour come in and clean up Randy Choate's mess. Then you have the best one-two punch in the major leagues: your 2011 closer Joaquin Benoit and MFIKY. Nice.
Merlot Joe, isn't it about time to name Matt Joyce your starting right fielder? You lauded him in your postgame comments and suggested he just needs a little more confidence. Kinda hard to do that sitting in the dugout watching Gabe Kapler play.
Joe believes Joyce has proven he should be given an extended shot in right field.
All in all a solid win. Nope, the Rays aren't hitting. But if they continue to get pitching and defense the way they did tonight, that covers quite nicely for the lack of bats.
Likes

(

0

)
Dislikes

(

0

)