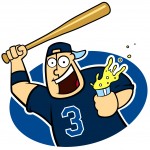 There's that annoying theory that says a good manager can win you 10 games a season. As if anyone can measure that sort of thing.
But Joe's pretty certain that Joe Maddon played at least a key role in this beyond brutal loss to the Orioles.
Go back to Friday's game against the Yankeees when Maddon passed on sending Rafael Soriano to the mound with the game tied in the ninth. Soriano was totally fresh after the All-Star break and the Rays had a chance to give New York their all.
The Rays lost on a walk-off hit to Nick Swisher, and Soriano kept his jacket on four more days until last night in Baltimore. Clearly he was rusty last night, getting lit for two runs with nobody out to tie the game in the ninth at 9 before bearing down to get out of the inning.
If Soriano pitches in New York and has a shorter layoff, is he sharp last night? Rays win?
Of course, that's all moot if Ben Zobrist wasn't playing ballerina in right field in the seventh, choking on two balls sent his way. And for all those 10 runs, the Rays managed to hit just .200 (9-for-45) and leave 19 runners on base.
But back to the managing, why Zobrist wasn't bunting with nobody out and a runner on first in the 13th will go down as another Maddon mystery. There's no freaking way the computer didn't like those odds, Maddon. Funny how that little extra-innning strategy worked just fine for the Orioles and led them to victory.
If you haven't already, a moment of silence is in order for Carl Crawford.
There's getting hit in the manhood, and then there's taking an 80 miles-per-hour baseball for the team. The only thing Joe can liken that pain to is a senseless 11-10 loss to the Orioles.
Likes

(

0

)
Dislikes

(

0

)