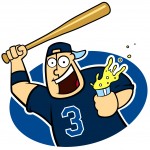 Could the Rays have played with any less urgency?
Joe gets that this was a double rain delay, shortened mess of a game with the Rays on the wrong side of a one-hitter.
It's one of those nights, but still the Rays looked flat as can be in the 3-1 loss.
Aside from the dead bats, John Jaso's throwing error was catchable by Jason Bartlett. Ben Zobrist's ill-advised flying leap in right field was way off the mark. And the communication while Carlos Pena and Jeff Niemann covered first base wasn't good, not to mention Niemann being visibly winded for a while after making that loooong run from the mound to first. 
The streak hit 18 straight duds in Cleveland. But no worries, though. B.J. Upton says it's not so bad. "You can't really count tonight," Upton told MLB.com after the game. "There was still two innings of baseball left."
Thanks, Bossman, but the game is over and your team lost a game to the Sox and Yanks.
Joe really hopes you take that attitude to wherever Mr. Friedman can dump you.
Likes

(

0

)
Dislikes

(

0

)