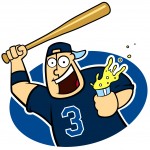 When your team's literally on pace for 100 wins (after 100 games), plus young and relatively healthy, it can be challenging to find fault.
That's where the Rays are.
Maddenology is breaking new ground. Joaquin Benoit and MFIKY have found a new level of shutdown nasty. And the Rays have shown major signs of what Joe's been seeking for weeks: a true championship swagger.
It may sound stupid, but teams don't win it all without that swagger. The talk radio chatter is all abuzz with scoring a right-handed bat, but Joe would gladly pass on that for some real team-wide, refuse-to-lose arrogance.
It seems like Matt Garza's no-hitter may have been the dose of sh*t-don't-stink the Rays needed to win games like the last two, where they just willed themselves on the Tigers in the late innings.
And that brings Joe to Willie Aybar's pathetic baserunning from third base on a critical safety squeeze attempt during Wednesday's 7-4 win.
Aybar knew what was coming, and his heart should have been pumping wild, with him ready to explode toward home plate on contact. We're talking about one of the most exciting situations for a baserunner the game has to offer.
But Aybar breaks late and gives up on the play. No slide. No collision at home plate. Just a guy pulling up like a dress-wearing schoolgirl who doesn't want the catcher to get her hair dirty with the tag.
As Joe tweeted during the game, if that was B.J. Upton, all of Raysland would have lost its mind and raised its pitchforks.
There was no excuse.
The championship swagger is spreading very fast, but it hasn't made its way to Aybar and some other guys.
Joe's confident it'll eventually make the rounds.
Likes

(

0

)
Dislikes

(

0

)