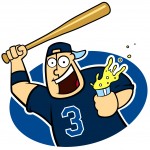 The Curse of Cleveland has finally come to an end for the Rays. Nearly five years ago on a bleak, forgettable day in the waning days of the 2005 season was the last time the Rays won a game at the city some decry as the Mistake by the Lake (Joe strongly disagrees).
Joe's of the opinion this win came thanks to the baseball gods.
When Joe — and most right-thinking baseball fans — thinks of power pitching in the history of baseball, it's hard not to think of Bullet Bob Feller. The corn-fed righty was the Nolan Ryan of his day: a fastball rivaling the speed of a V2 rocket and a curveball that made many batters cry. Had it not been for his naval service in World War II, who knows what kind of numbers Feller could have racked up?
So when former Rays pitcher Mitch Talbot dared to approach hollowed ground for Indians fans, it had to anger the baseball gods.
Talbot early in the game was doing his best to imitate Feller. He struck out six Rays in order. The first Indians pitcher to accomplish such a feat was, of course, Feller.
Bob Feller and Mitch Talbot… huh? The nerve of Talbot? Thus, the baseball gods acted.
Soon after Talbot matched Feller's record, the Rays began to sealclub him. We're not talking hits here, we're talking rockets. Bombs. Even B.J. Upton's line drive down the right field line required a fantastic, diving play by Indians right fielder Shin-Soo Choo to rob Upton of extra bases and, temporarily, save Talbot's skin.
The win by the Rays was a blunt message to Talbot by the baseball gods: You may try to toy with Bob Feller's numbers, but there will be a severe price to pay.
The baseball gods have spoken. Talbot was put in his rightful spot: Not alongside Feller, but in the loser's circle. Embarrassed. Humbled.
Memo to Mitch Talbot: Leave Bob Feller's marks alone!
Likes

(

0

)
Dislikes

(

0

)