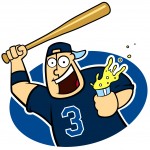 Strange goings on. Decent starting pitching. Awful result.
That's pretty much what Joe feels after watching the Yankmees beat the Rays tonight.
It wasn't like Matt Garza was horrible. He only gave up five hits. Any other night, that's damn fine pitching. Problem was they were all extra-base hits!
If that wasn't strange enough, the day began and ended with Twilight Zone-like news.
Last night Joe chastised the Rays beat writers for ignoring 21st century technology, Twitter to be specific, and not following up on unconfirmed rumors that Grant Balfour was escorted by security out of the Rays clubhouse. Some 12 hours later we find out Balfour was hurt "horsing around" with pitching coach Jim Hickey.
Hhhmm. "Horsing around?" Really? OK, let's just assume (because assuming is fun) those unconfirmed Twitter rumors were accurate. Then someone define "horsing around."
Feel free to speculate.
Now Balfour in on the disabled list and may not pitch again until September. This is not good.
We end the night with Carlos Pena being pulled. For once, the Rays press corps moved into action. Joe Smith actually Twittered the update, but it was nothing more than a link to the Times site — which timed out by the way on Joe's blackberry — but Joe gives props to Smith (who's a cool guy by the way) for doing something,
Even Todd Kalas saw fit to a break from forced, often worthless fan features to give viewers an update on Pena. Kalas was earning his keep tonight. He scored a timely, topical interview with Rays braintrust leader Andrew Freidman and then found out why Pena was pulled Good job Todd!
Just a depressing loss. Joe thought it was in the bag until Robbie Cano burned MFIKY. Todd Wright, yes on Twitter, felt perhaps MFIKY is getting worn out because that was his fourth appearance in five games and didn't seem to have the same zip on his pitches as normal.
Joe wondered aloud on Twitter that Joaquin Benoit, if the game was still tied after eight, should have returned for the ninth as Mariano Rivera, pitching for the Yankees in the ninth, there was a good chance the game would go into extra innings. Joe would take his chance with MFIKY in extra innings against Joba Chamberlain.
Again, someone send Joe a link to a state statute that denies Merlot Joe the right to use Benoit for two innings.
Cano's homer snapped 8 2/3 innings the Rays bullpen had pitched without allowing a hit.
Time to shake off the depression and get back at it in a few hours. This series can still be won.
It should have been won Saturday night.
Likes

(

0

)
Dislikes

(

0

)