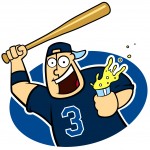 Before Monday's no-hitter, Matt Garza and James Shields were fighting it out to become the first Rays starter to grab a 5.0 ERA.
But unlike with Shields, Joe and every other Rays fan knew that at some point Garza and his great stuff would get hot.
Well, now he's hot — in a big way. No-hitters are special. Sheer brilliance. Joe was on his feet anxiously chugging beers throughout the ninth. The ERA is down to 4.
Garza's got two more starts on this 11-game homestand. And Joe's now expecting great quality out of those efforts. The no-hitter came at the perfect time.
Joe's completely confident the Rays will grab at least seven out of 11 on the homestand.
Lost in Matt Joyce's no-hitter busting grand slam was Carl Crawford reaching base two batters earlier via catcher's interference.
Anyone who's been to Rays games can plainly see that Crawford routinely has his back foot out of the batter's box but doesn't get called for it or seemingly ever warned by the umpire.
On Monday night, it paid off in a big way leading to the catcher's interference and the subsequent Grand Salami.
Joe's always wondered when an opposing team would try to get in Crawford's head and upset his rhythm by moaning to the umpire about his illegal stance. Joe suspects that's likely to come a lot sooner now.
As for Joyce, he got some gift from Max Scherzer on the home run pitch, a cupcake of a fastball up that he could yank 340 feet to glory. Joe much preferred Carl Crawford's 400-foot muscle job in the eight on a pretty good pitch.
Beyond that, the bats were dead, which has to end real fast if the Rays plan to build on Garza's gem.
Likes

(

0

)
Dislikes

(

0

)