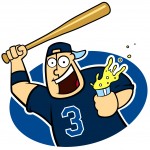 Joe is so giddy over the Rays win he doesn't know where to begin? It was the Holy Trinity of baseball tonight: pitching, defense and a key hit.
* Wade Davis: Was this his best outing? Hard to argue. Once he got past the first, he was simply dominant. Joe has written before Davis could carry the Rays a long way until/unless James "No Game" Shields has proven he has put his awful pitching woes behind him.
Joe cannot write just how great that is to see a No. 4 pitcher come out against a team with the best record in baseball and shut them down for six innings. As strong as the Rays bullpen is, Rays pitchers only need to get through seven innings.
Nice job Wade! Keep it up!
* While Joe has been a bit difficult on Carlos Pena at times for his penchant for imitating Rob Deer with his strikeout-or-homer offense, Joe has never wavered that Pena is one of the best defensive first basemen in baseball and maybe the best.
Pena diving to his right and throwing to MFIKY covering first for the final out was simply breathtaking. It reminded Joe of Albert Pujols in the seventh inning of World Series-clinching Game 5 of the 2006 fall classic with the Cardinals clinging to a 3-2 lead, Pujols dove far to his right and while lying on his back, flipped to Jeff Weaver for an out.
Web gem indeed! Who knows what happens if the Yankmees bust open the door with a baserunner there?
* Matt Joyce: Dude is on fire with critical home runs. Could Adam Dunn do any better? As Kevin Kennedy said in the Sun Sports postgame show, "Maybe the Rays have all the pieces to the puzzle?" Kid is clutch and Gabe Kapler should never start in right over Joyce unless the youngster from Tampa is injured.
[Column intermission: Why do the Rays beat writers cling to ancient media philosophies? Apparently, per various Twitter reports (none from the Rays beat writers) Rays reliever Grant Balfour was escorted by security from the Rays clubhouse. One Twitter account suggested Balfour "looked sad."
Again, no Rays beat writers Twittered this information… and they were in the clubhouse after the game!
What's going on here fellas? Aren't you guys paid to report? We don't live in 1985 any longer. You guys wonder why newspapers are hurting? Here's Exhibit-A and it's hardly the first time this has happened. Joe follows other teams' beat writers and when somebody sneezes during, before or after a game, they report the news immediately on Twitter.
If your editors are that paranoid about losing pageviews, at least send a link to a blog update via Twitter. Get with the times!!!
Shameful. Disgraceful. Irresponsible. At least most of the Bucs beat writers have the right idea: They Twitter just about everything without delay. With a baseball team in the midst of a pennant race, maybe one of the newspapers' interns can teach these guys how to use Twitter and explain why it exists?]
Joe is happy. Giddy. Wants to get drunk but has to get up early to go to Bucs training camp. Still, with all that is right about this win, pulling the Rays to a game of the Yankmees, Joe has to temper his enthusiasm.
There are still two games left in this series. And it's still July.
Joe sure hopes this Friday night hex that has plagued the Rays this season is now finished.
Likes

(

0

)
Dislikes

(

0

)