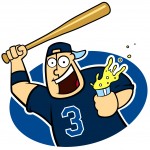 Ladies and gentlemen, can I please have your attention. We've just been handed an urgent and horrifying news story. We need all of you, to stop what you're doing and listen. BLOG-A-PALOOZA!!
If you were around these parts in the last 24 hours, you may have already noticed some renovations such as the banner at the top of the screen. Rays Index has partnered with the awesomeness that is Joe Bucs Fan and will now also be known as Joe Rays Fan.
My role here will not change much. You will still get "The Hangover" most mornings as well as all the other posts, analyses, criticisms, movie references and weak jokes. However, you will get more material as Joe will be making regular appearances.
The partnership also means we have moved the Raysheads Forum to a new site. You can now get all of your discussion needs over at the 620 WDAE website, where the forums will be powered by Joe Bucs Fan and Joe Rays Fan.
It also means I will be making regular appearances on local sports radio (more details to come). And that is just for starters.
Basically, a Rays Index-Joe Rays Fan partnership offer endless possibilities, zero subtlety. So hang on lady, we goin' for a ride!
Likes

(

0

)
Dislikes

(

0

)