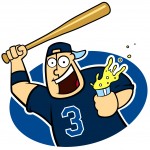 It wasn't a pretty win but Joe was happy. Naturally, Joe was happy with a win. A "W" is always a good thing. This isn't the BCS. At the end of the year style points are not added up, just W's.
What got Joe happy about this win was how the Rays gutted out a victory. In particular Joe was proud of Wade Davis. The Rays No. 4 pitcher has, in the past couple of months, pitched like a guy begging for a return trip to Durham. So with James "No Game" Shields continuing to struggle, and the Rays still nipping at the Yankmees' ankles despite Shields being an albatross, Davis' gutsy win was very, very good.
Aside from the fifth and sixth innings, Davis had to constantly battle out of jams. In past games, Davis would have folded. Today, he didn't. Sure, it was the Tribe he was facing, but considering the Rays' (mis)fortunes in Cleveland the past five years, constantly dodging bullets the way Davis did was great to see.
Like Davis, the Rays seemed to do their best at times to try to beat themselves offensively. Just what the hell was John Jaso thinking in the seventh when he tried to run from second to third on a groundball to short? Who the hell does he think he is, Ricky Henderson? Judging by the reaction of Merlot Joe, even he couldn't believe Jaso's baserunning stunt.
Speaking of Merlot Joe, he made his former boss Whitey Herzog proud in the fifth with some smallball. On the day the White Rat was inducted into the Hall of Fame, the Rays played some Whiteyball with Bartlett getting on base thanks to an error, stealing second, advancing to third on a groundout and then scoring on a sac fly. Joe was having such a flashback he was almost waiting for Rays first base coach Silent George Hendrick to step to the plate!
Reid Brignac gets a gold star today. Three-run homer and some sick defense at second. Nice job, son!
The Rays win the series, two out of three in Cleveland. It wasn't pretty Sunday but Joe will take it.
Likes

(

0

)
Dislikes

(

0

)