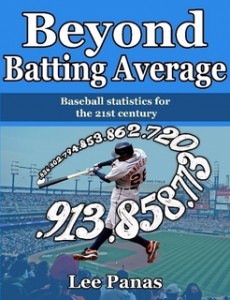 We just got done reading Beyond Batting Average, by Lee Panas of Detroit Tiger Tales. It is an introductory book on Sabermetrics and the new-age baseball statistics that you often see referenced here and on other sites.
Beyond Batting Average is not going to overwhelm you with math. Rather, it does an excellent job of introducing you to the theory behind many of these stats, the strengths and weaknesses of each and when it might be appropriate to use them.
If you already have a firm grasp on Sabermetrics, then this book may be a little elementary. But if you ever wanted a quick lesson on these stats, then we recommend this book. It is a quick read (we read it in two days) and keeps the discussion simple.
If you are interested, a hard copy can be found HERE and an electronic copy can be ordered HERE.
DEVIL DOGS WEBTOPIA…
Big League Stew has Evan Longoria's new commercial to air today during opening day games. [Big League Stew]
Rays Prospects has the minor league rosters: Durham and Bowling Green, Montgomery and Charlotte. 
Stacy Long has the list of players that will remain behind in extended spring training. [Biscuit Crumbs]
Alex Torres will be the opening day starter for Montgomery. [Biscuit Crumbs]
Dennis Maffezzoli has 5 reasons the Rays will win the East and 5 things that could go wrong. [Sarasota Herald-Tribune]
The Rays debut at #4 in Phil Rogers power rankings. [Chicago Tribune]
The Nationals inquired with the Rays about trading for BJ Upton. [MASN Sports]
The Hardball Times evaluates Mike Scioscia and Terry Francona. Keep in mind that Joe Maddon has very similar managing tendancies as Scioscia. [The Hardball Times]
Theo Epstein remembers the disaster of his first game as Red Sox GM. The 2003 season opener against the Devil Rays that ended with a Carl Crawford walk-off HR. [Boston Herald]
Likes

(

0

)
Dislikes

(

0

)